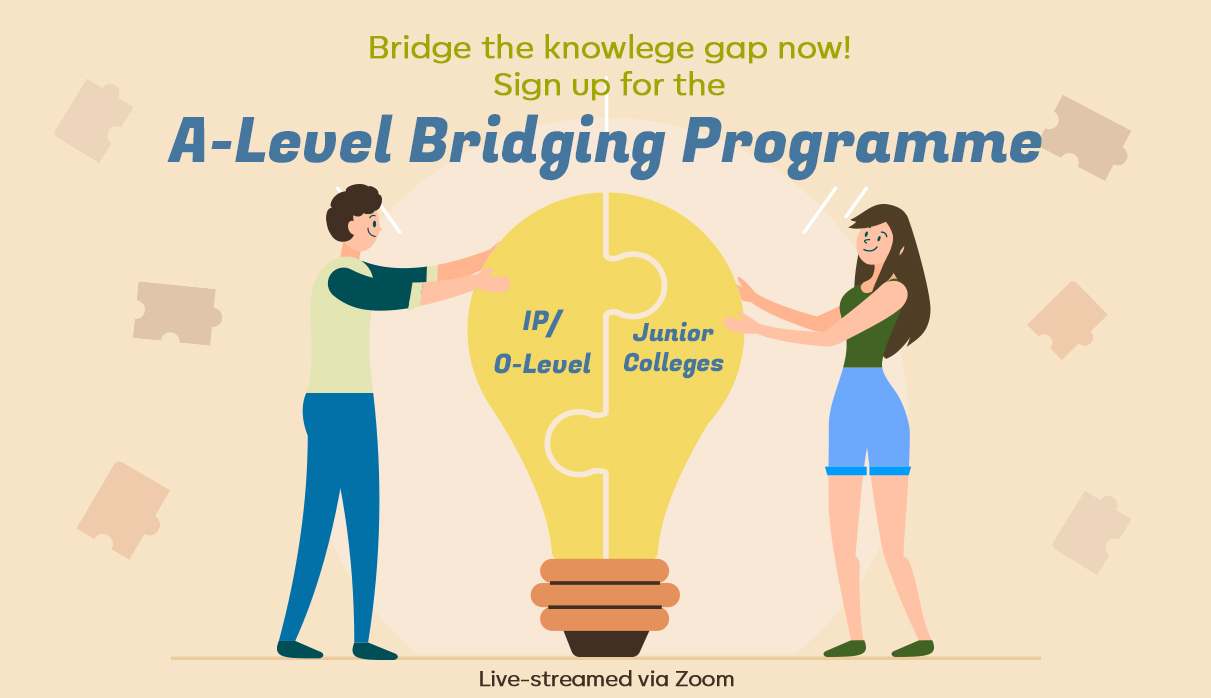 A Level Bridging Programme
for IP 4 and Sec 4 Students
What is an A-Level Bridging Programme?
The A Level Bridging Programme is an hour and a half information session conducted in November 2020 aiming to familiarise Sec4/IP4 students with an overview of JC subjects and syllabus topics by our expert tutors. This is a fully complementary programme to help the students adjust their studying pace and prepare for the needed skills and knowledge to transition into the JC subject curriculum. This programme also equips students with critical information to make informed decisions when considering their choice of desired subject combination.
Limited seats per subject seminar only! These sessions will be held online and live-streamed via Zoom.
Who Should Attend?
IP4 or Sec4 students graduating in the 2020 academic year who are likely, incoming JC1 students next school year 2021 are strongly encouraged to attend the A Level Bridging Programme.
Who Conducts This Programme?
All sessions are carried out by Learners' Lodge's ex-JC teachers who have more than 10 years of experience helping JC students ace their JC1 promotional examinations as well as the 'A' level examination.
A Level Bridging Programme Subjects
Biology
This programme is designed to introduce the A-level Biology syllabus and an overview of the physiology and anatomy topics not covered in the O-levels.
Schedule for Biology
| Date/ Time | Tutor | Status |
| --- | --- | --- |
| 20th Nov (Fri), 5:00-6:30pm | Mr Alex Xu | Filling Fast |
Chemistry
A Level Bridging Programme for Chemistry
Schedule for Chemistry
| Date/ Time | Tutor | Status |
| --- | --- | --- |
| 20th  Nov (Fri), 2:00-4:00pm | Mr David Wong | Filling Fast |
Economics
A Level Bridging Programme for Economics
Schedule for Economics
| Date/ Time | Tutor | Status |
| --- | --- | --- |
| 19th Nov (Thu), 1:00-3:00pm | Mr Gilbert Lee | Filling Fast |
General Paper
The workshop is intended to provide participants with an overview of the requirements for General Paper as an examinable subject at Cambridge 'A' levels.
Participants will:
Learn about the requirements of both Paper 1 and Paper 2 for GP
Get an overview of the skills and knowledge necessary for achieving success in both papers
Pick up tips on how they can prepare themselves in the course of their study
Schedule for General Paper
| Date/ Time | Tutor | Status |
| --- | --- | --- |
| 19th Nov (Thu), 3:15-4:45pm | Mr Aw Meng How | Filling Fast |
Mathematics
A Level Bridging Programme for Mathematics
Schedule for Mathematics
| Date/ Time | Tutor | Status |
| --- | --- | --- |
| 20th Nov (Fri) 1:00-3:00pm | Mr Teng Kah Seng | Filling Fast |
Physics
Bridging Programme for Physics
Schedule for Physics
| Date/ Time | Tutor | Status |
| --- | --- | --- |
| 19th Nov (Thu), 5:00-6:30pm | Mr Raymond Cai | Filling Fast |